Welcome to the Squirrels' Nest!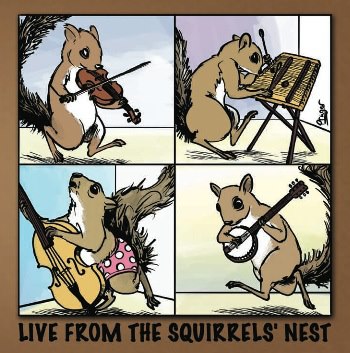 If you've recently made your way to the Evart, Michigan ODPC Funfest in July, you know the grounds are filled with excellent musicians and amazing jams. One little corner of that paradise has come to be known as "The Squirrels' Nest". With an incredible assortment of musician friends, this high-energy jam often goes on into the wee hours. Often, you'll see us break out the blinky hats, laser lights, and neon signs... not to mention the squirrels wearing underpants. The caliber of musicians and the level of goofiness regularly combine to make some real magic.
Despite the high caliber of musicians, one thing you'll still find about Squirrels' Nest is that EVERYone is welcome. If we see you standing outside, you'll be invited over - to play, listen, or just wear a silly hat with us. We want you to be part of the music, no matter what your experience. Often, the music we play can feature some pretty advanced tunes. Really often, we will play it mighty fast, and sometimes even with quirky key changes. We do have some pretty amazing musicians that join us to play. But even beginners can find inspiration under the lights with us. It's always an open jam! :-) Don't be intimidated to join in as you can. We welcome all ages and all acoustic instruments. Hey... have you ever heard a hurdy gurdy solo called? No? You don't know what you're missing!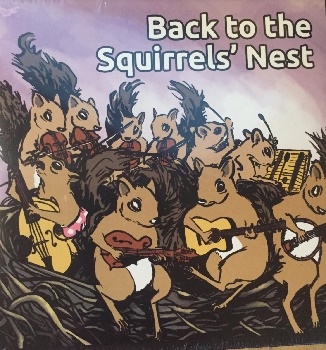 Late at night, we've been known to form shoe bands in the center of the tent... to call dances for the crowd.... and to bring in all the little (and not so little) kids to the center of the circle so they can experience the surround sound of the center of Squirrels' Nest. It really is a magical place, and magical time, and full of magical people.
There's so much fun to be had that many of us reach out beyond Evart, and gather whenever and where ever we can to make more music. In fact, the a few of the musicians have formed a smaller group, affectionately known as Squirrels' Nest Live, to play at events and festivals. We've had a lot of fun doing this, even though it's quite a challenge, with us each coming from different towns and even many different states. If you've seen us perform at places other than Evart, now you know a bit of our history.
Over the past few years, the Squirrels' Nest Crew has set up some studio-quality recording equipment and recorded some of this magic. The results were two CDs: Live from the Squirrels' Nest and Back to Squirrels' Nest. Live from the Squirrels' Nest has sold out, but there are still limited copies of Back to the Squirrels' Nest available.
CDs are available at a cost of $15, or 2 for $20. Shipping, if needed, will be an additional $3. As mentioned above, the first CD sold out quickly, but there are still a few copies of the second CD are available.
If you would like to order a copy, or would like more information (like where to get one in person), contact Thing2@squirrelsnestlive.com.